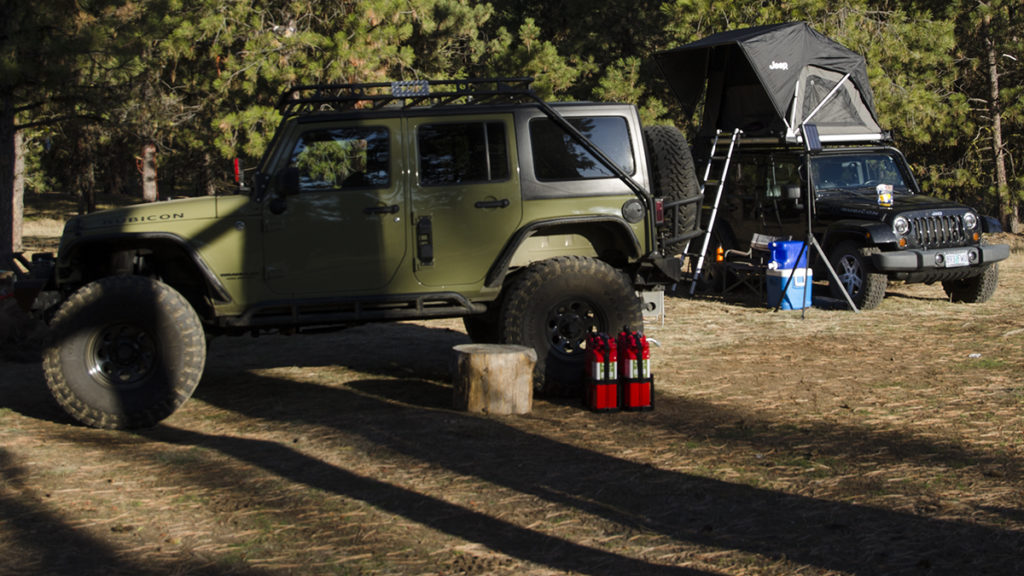 The most miserable night I can remember…
My son, Chris, and I were making a trial run with our Rubicon jeeps… we were planning to join the second annual "Burning Jeep" tour out of Brothers, Oregon, led by Casey Kaiser, whose jeep burned to the ground in a spectacular fashion while he was on a solo camping trip. You can find his incredible story elsewhere on YouTube.
Last minute jeep repairs jinxed our joining the Burning Jeep tour, so we decided to visit our former hunting camp near Seneca and look for a very large tree we remembered from ten or fifteen years ago.
My father joined his brothers on a hunting trip to Seneca in 1933. "Going to Seneca" were magical words for me. I begged to go every year after I was old enough to walk… Dad gave me a goal… I had to be as tall as his shirt pocket. I stretched every day… I made my first trip to Seneca at age nine. My sons were the third generation to hunt at Seneca… where they got to listen to Grandpa and Grandma tell hunting stories around the campfire.
I eventually gave up packing a rifle and started carrying a camera… using my hunting skills to photograph wildlife. I still head for those ancestral hunting grounds annually… choosing to avoid the hunting seasons… enjoying many great memories… making new ones. This trip had promise. It was our first driving the Jeep Rubicon.
We stopped in Prineville to top off the fuel tanks… then had a late lunch/dinner at the Tastee Treet… hamburger, fries and a 20-ounce vanilla milkshake made a hearty meal and provided more calories than I needed for a day of driving.
When we turned off from the paved highway, we noticed patches of snow roadside… a harbinger of temperatures to come. The elevation where we were headed ranges from 5,500 – 6,000 feet. For a comparison, Timberline Lodge on Mount Hood stands at 6,000 feet. If there is snow at Timberline there will be snow at our hunting camp. There was snow at Timberline… Mount Hood wore a fresh mantle of white.
There is snow in the shadows at camp… the ground is frozen as hard as concrete… winter jackets and wool gloves keep us warm while the sun is shining but it will get much colder during the night. We take a brief tour of the camping area… toting our trash bags and picking up trash the former occupants left behind.
Our traditional campsite is on the edge of a large meadow… Quaking Aspen surround the meadow… leaves trembling in the slightest wind… shining a brilliant gold… reflecting the autumn sun. We have seen herds of elk feeding in that meadow… deer were also frequent visitors. Coyotes come to mouse. It is a delightful place to camp and watch the faces of nature.
Other groups camp here too… mostly hunters… we are between deer and elk season, so during our stay we have the woods to ourselves. I grumble about how others treat our sacred campground… they butcher the animals they kill and leave the parts they don't use… they also leave their garbage for us to pick up and pack out… dumping their holding tanks as a final insult before departing.
Within minutes of our arrival a brilliant blue Steller's Jay checked us out… it landed on a limb above our heads, scolding us raucously for intruding… then a pair of Gray Jays, aka Camp Robbers, looked to see if any unattended food was present… leave your lunch for a minute and it will be gone when you return… guaranteed. A couple Least Chipmunks made a more cautious approach, but no snacks were offered, and they departed.
Ponderosa Pine is the primary forest tree here although some Lodgepole Pine mixes in… White Fir, Douglas Fir and Tamarack also grow on the north facing slopes… Juniper and Mountain Mahogany are understory trees… Quaking Aspen mark wet ground, creek banks and springs… ancient lava flow rimrocks line the edges of steep canyons. The area is in a multiple use National Forest. There is no fee for camping.
Setting up camp… the main issue is finding level ground to park our jeeps so our beds will be reasonably level … Fifty years of using this spot for a hunting camp provided memories of leveling rigs… so we were able to pull into flat spots without spending time searching for the spot just the right place to park.
The ideal strategy for jeep camping is to plan the cargo load so one doesn't have to unload and load at every stop. Chris has a roof top tent on his 2012 Rubicon, so he doesn't disturb internal cargo, but I elected to sleep inside my 2013 Rubicon… Consequently, I had to unload cargo from the jeep to access the bed. I'm six foot three so I folded the back seats to give me room to stretch out. The floor isn't exactly flat like a bed but will suffice.
With my head between the front seats and my feet against the tailgate I just barely have enough room. I laid down a layer of cardboard to provide insulation from the cold metal underneath me. An air mattress softened the sleeping surface and a sleeping bag provided warmth… I tossed in a comforter in case more warmth was needed. My jacket served as a pillow.
Perfect, or so I imagined, until the thermometer dropped well below freezing. The proof of the pudding is in the eating. We were about to test our theories.
Bedtime comes early without television… gazing into a campfire is an adequate substitution but without a stack of firewood to maintain a campfire we decided to bed down soon after sunset… a lonely coyote gave us a serenade and a full moon rising through the Ponderosa pine trees on the ridge provided eerie lighting around camp. I wanted to see the night sky full of stars… the Milky Way… not available to view at home because of light pollution from the city of Portland… but the cold night air drove me to seek the warmth of the sleeping bag.
Sleep came quickly but during the wee morning hours the Jeep began to cold soak and misery set in. I began to feel like I was inside a freezer. I desperately needed heat so I decided to start the engine and turned up the heater.
The Rubicon can remote start… no need to get up… one can remain wrapped up in a sleeping bag and start the motor by pushing a button on the key fob… the engine will run for ten minutes and then shut down. I could smell exhaust gases… I worried about the risk of carbon monoxide poisoning… I gave it one trial.
Starting the jeep gave momentary relief but as soon as the engine shut down the cold returned. According to the thermometer the outside air was just below 20 degrees Fahrenheit… not unusual for October in this region. It could have been colder. It was a long night. Sunrise was a welcome sight.
Mercifully sunrise and hot coffee cured the problem.
Chris did better… his rooftop tent worked well and kept the cold at bay.
Our goal for the day was to find the big tree… maybe a champion for Oregon… so we set out to explore… we did some jeep road touring… some hiking… no big tree. Trees in the area had been thinned so perhaps the big tree is history.
We decided to stay one more night… I briefly considered sleeping on the ground… I have done that in the past with success… but the ground was as hard as concrete, indicating it was still frozen. I elected to sleep inside the jeep again but this time I put the comforter on top of the cardboard and the sleeping bag on top of the comforter… that combination was warmer, and I slept more soundly. However, the weather also warmed 10-15 degrees, so it wasn't a fair test.
When morning came, we packed our gear for the drive home. We managed our departure so we could include one more hamburger with fries at the Tastee Treet in Prineville.
Despite the misery of a cold night for me, we enjoyed our adventure. We came home with ideas for an improvement for my sleeping situation.
We researched the Internet for options and noticed no one demonstrates the effort it takes to get in and out of a bed inside the jeep.
Sleeping inside a jeep is not for everyone. I am in my eighties and not as nimble or limber as I once was… I need to get up several times during the night… maybe three times before daylight. I found sleeping at floor level in the jeep unsuitable. Getting up is a chore.
Chris thought I should try his rooftop tent but I decided managing a rooftop tent wasn't for me.
I plan to raise the bed inside my jeep to sitting height so getting up from bed is easier… A foam pad instead of an air mattress may make a big difference in heat transfer. In my imagination I will sleep much warmer.
Before departing on a camping trip, it makes sense to try sleeping in your jeep at home… where you have alternatives… do not leave comfort to your imagination… If your jeep bed isn't comfortable you can retreat to your regular bed and rework your plan.
Bon Voyage
ByLarry