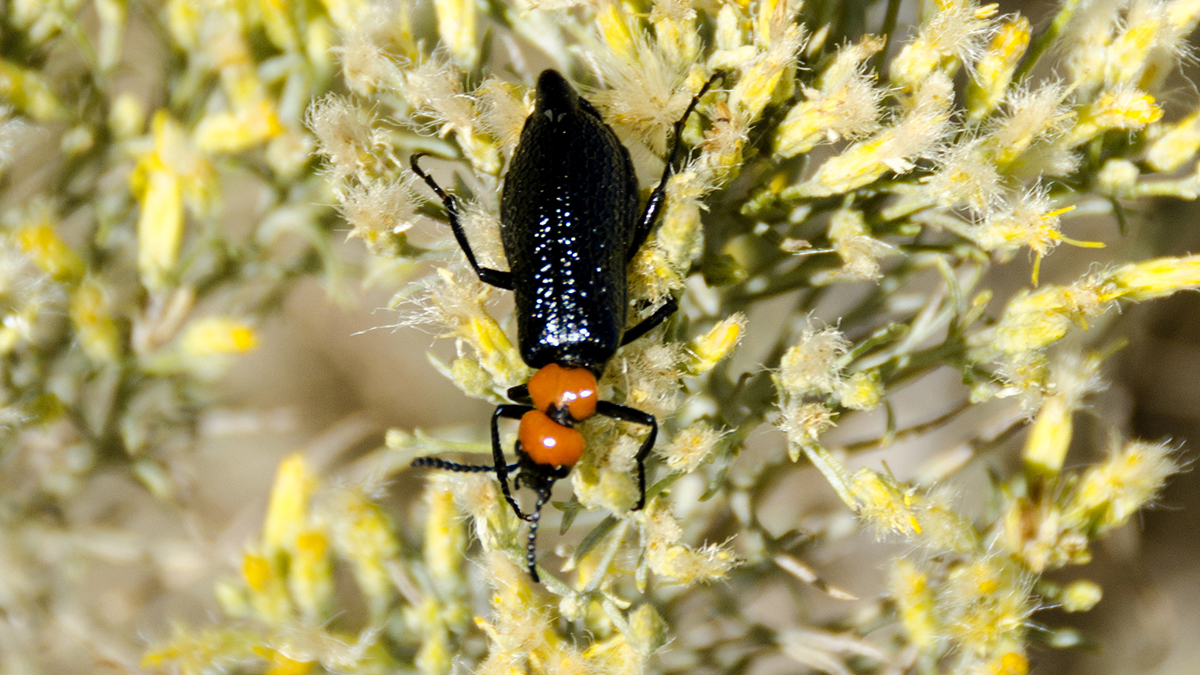 "Don't touch it." In the case of this colorful blister beetle… good advice.
According to biologists bright red/orange/yellow color is a warning sign to go away and leave this critter alone. Biologists refer to the concept of warning coloration as aposematism… apo = away… sema = sign. The beetle in the photo… grazing on rabbitbrush, a member of the Compositae family of flowers… is commonly called a blister beetle… releases a poisonous chemical that causes severe blistering of human skin. Don't touch it.
Do you want to see this species of blister beetle for yourself? Try driving east of The Dalles to the Celilo exit and then to the Deschutes River bridge on old highway 30. At the bridge turn right onto Old Moody Road… a gravel road… and go toward The Dalles about four miles… the exact spot for those of you that use GPS is 45.6412 North latitude and 120.9824 West longitude. At that position you will find a pullout and a lovely view of the Celilo Railroad Bridge that spans the Columbia River 580 feet below. Let's face it… if you don't find the beetle here at least you can enjoy the scenery.
Scrutinize the rabbitbrush growing roadside… if you find the beetle heed the warning… don't touch it. And, if you do touch it, do not put your fingers in your mouth! (If you do both of those things let me know immediately… I want to be the first to say: "I told you not to touch it!")
Thanks to Jim LaBonte, ODA Entomologist, for his help in identifying the beetle as Lytta vulnerata cooperi, a task made immensely more difficult by having to use my photo instead of having a specimen in hand.
Story and photos by Larry