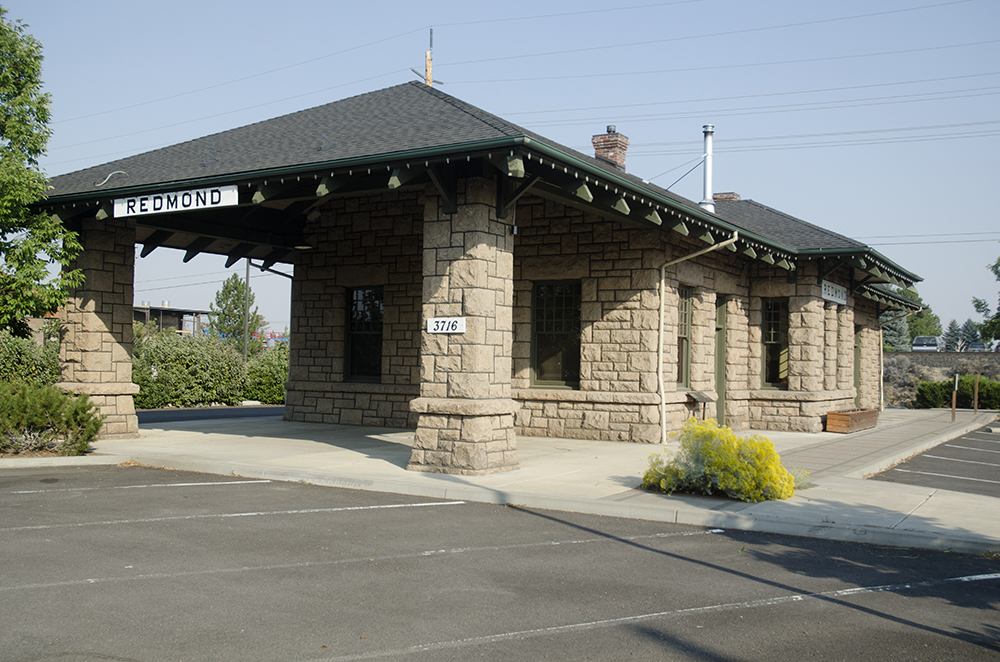 "The building is for sale."
His voice startled me… I was in the city of Redmond, Central Oregon, admiring the architecture of a building that appeared to be unused… lights off… doors locked… parking lot empty. I did not see or hear the stranger approach. He just appeared unannounced beside me… his words an invitation to a discussion… waiting for a reply.
I took another, longer look at him. He was short, stocky, well dressed… this was no cowboy or logger… his clothing and attitude spoke of wealth… an executive… maybe a banker… but with hands that looked like he knew how to hold a pick or shovel.
"Tell me about the building," I said. "I'm curious about the design."
"The building was a passenger depot for the Oregon Trunk Railroad… constructed in 1912 using volcanic tuff from a local quarry. We chose masonry over wood and built it to last… Cost us the grand sum of $9,290… that's $242,775 in today's money… Passenger service declined so we sold this building to the city of Redmond for a dollar… they spent $300,000 to move it to this location… to make room for a highway… but it's still near the railroad." He nodded toward the railroad tracks located just behind the building from where we were standing.
A loud blast from an air horn interrupted our reverie. A BNSF locomotive rumbled past, heading north toward the Columbia River, no longer hauling passengers but still finding profit with freight.
"Damned air horns, they have no panache," he said with a note of derision in his voice. "I miss the steam trumpet… with a little encouragement a talented engineer could play Beethoven's Fifth Symphony."
I turned away from watching the locomotive pass by and found myself again standing alone in the empty parking lot… believing I just had a conversation with the ghost of James Hill, the man who owned the Oregon Trunk Railroad, the man known to history as "The Empire Builder."
For more traveling Oregon stories: http://www.countrytraveleronline.com/