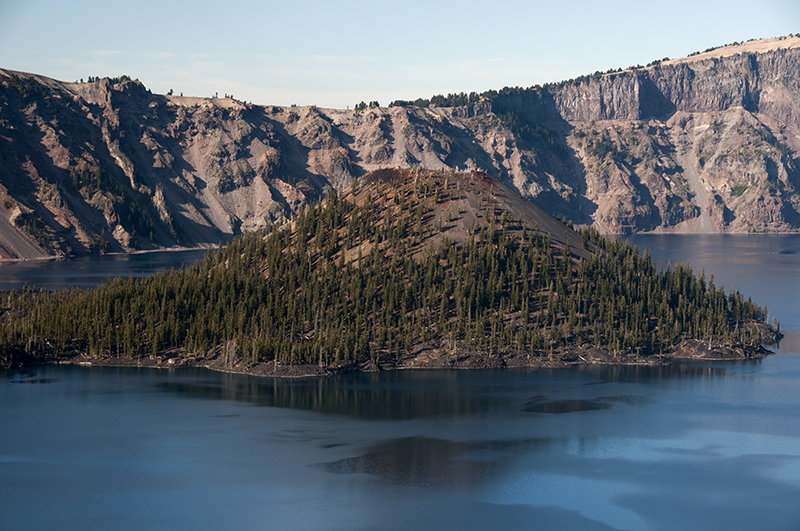 July 16, 2014: "I want to spend some time looking at the trees on Wizard Island," said Ralph, "and there are two record trees in the Park that were originally measured during the 1940's that need to be remeasured and certified. With luck we can do both."
Ralph brought a tent. We both brought a sleeping bag. We were prepared to camp out.
Did we have reservations?
It did not occur to us we would need reservations. We were surprised to find an overflow crowd at Crater Lake. Not only were no camping sites available but the Wizard Island tour would be space available.
The reservation system was down… crashed… so we had no idea how many people would show up for the tour. Nor could we risk staying on the island and taking the next boat back to shore. The next boat might be full… all the next boats might be full. We elected to look for the two "lost" trees and skip the time-limited island tour.
We had "approximate" locations for the two trees. The Park Historian was some help… he had also looked for the trees but was unable to locate them. His trials eliminated some possibilities for us though.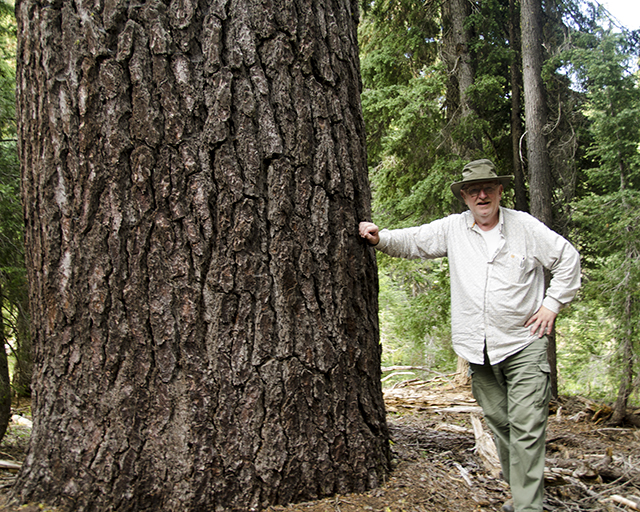 One of the trees was next to the road and we found it quickly, before evening set in we had measurements and photos.
We had to leave the park and find a campsite somewhere in the adjacent National Forest. We were lucky to find an abandoned hunter's camp where we set up the tent and spent the night without noisy neighbors. The noisy mosquitoes were another unanticipated problem. Eventually sleep prevailed.
The next morning, we looked for the other tree. We estimated the other tree was about two miles off road, downhill, and near where a couple small streams came together. I plotted coordinates to use with my GPS and we began the search.
Fortunately, an abandoned power line gave us a good trail to follow and walking was easy… downhill. When we passed two and a half miles we turned around and worked our way back. Ralph spotted a couple trees he wanted to measure but I was quickly running out of steam going uphill. The combination of elevation, sunshine and uphill was turning hiking into hard work. The two and a half miles down was more like ten miles going uphill.
I elected to take a rest stop while Ralph investigated trees. While he was gone I decided it would be a good idea to continue, slowly, and let Ralph catch up to me. That strategy would reduce the time spent on the return trip and my rest stops wouldn't be an issue.
When Ralph returned to the trail he wasn't sure he was below the location where we parted. I could be waiting down the trail. So, he backtracked until he was sure he was below where we parted and then hiked back up the hill to find me. By then I had decided to return to the car.
Ralph was worried about having missed me on the trail. He thought I intended to wait for his return. I worried about him… he had the keys to the car. When we got back together at the car we reviewed our hiking strategy to make sure we both understood what the other was planning to do.
I love when a plan comes together.
byLarry