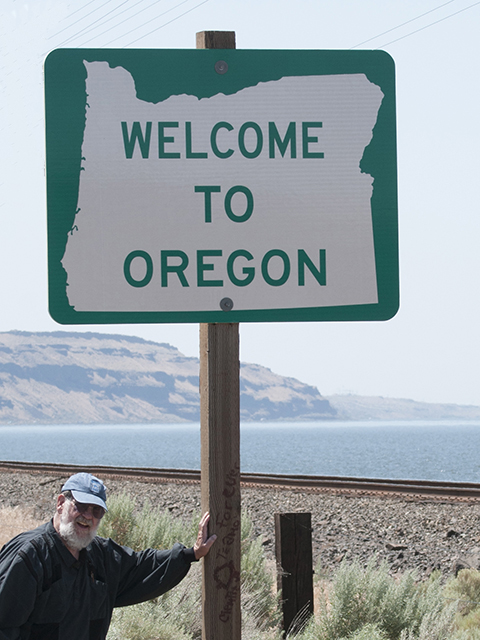 "Dry land at last," said Marvin, "I was beginning to think Oregon is an island."
We were trying to circumnavigate Oregon as an adventure. We started the furthest south, where California and Oregon join with the Pacific Ocean and headed north toward the Columbia River. Oregon's boundary is a nautical league offshore… that's about three miles of water for those unfamiliar with nautical terms.
Oregon's boundary then follows the Columbia River 309 river miles upstream, zig-zagging with the flow of the river, until just about 17 miles east of the McNary dam near Umatilla where the 46th parallel comes ashore heading easterly, forming the rest of the boundary with Washington.
"That's about 660 miles by water so far," I replied. "We have about 100 miles of dry land before we reach the Snake River where Oregon, Washington, and Idaho form a tri-corner about a mile below the confluence with Cache Creek."
"Can we drive any of that?"
"Just a few miles along the state line near Walla Walla, the rest is wilderness."
"So, what now?"
"We can follow the footsteps of Lewis and Clark and use water grade… the Snake River is tributary to the Columbia… we will have to do some of that by boat."
"Do you know what Walla Walla means in Wiradjuri?"
"Probably not the same thing it means to the Walla Walla Nation."
"It's 'the place of many rocks' in Wiradjuri."
"OK… so far we have been the farthest south, west and north on land in Oregon but the legal boundary has been covered with water… now we are headed for the farthest east in Oregon… guess what?… it's in the water… in the Snake River."
"Just as I suspected… Oregon is an island… it has water all around… that's the exact definition of an island."
Photos and story byLarry