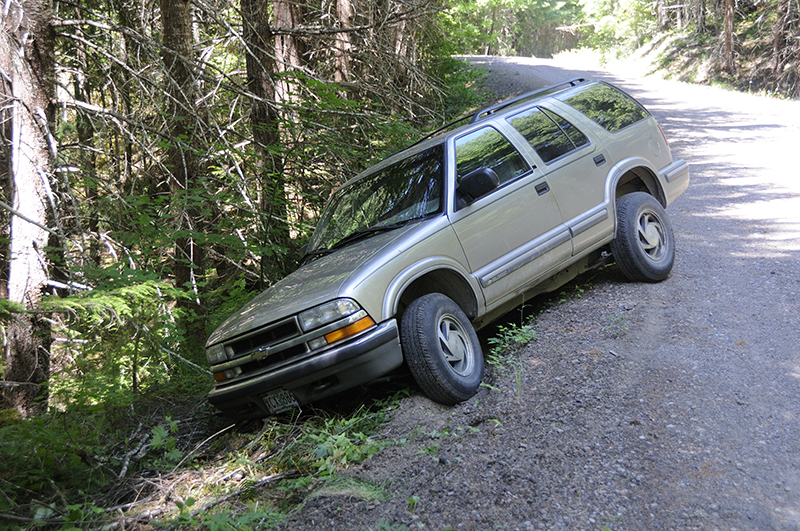 "Stop… Stop… Stop… we are going to roll over!"
My son Chris and I were exploring Mount Hood National Forest (MHNF) roads in Clackamas County. We were headed toward Estacada, planning to follow the Collawash River Road (MHNF 63) down to the Clackamas River Road (MHNF 46) when we came upon two small trees that had fallen across the road.
MHNF roads are maintained mostly by users. Winter snow results in heavy loads on trees and fallen trees are common. Normally I carry an axe and a chainsaw in my Chevy 4WD Blazer when I'm traversing back country. But this trip was the result of a change of plans after we departed home, so the axe and chainsaw didn't make the trip. Our satellite phone didn't make the trip either. No one else knew of our change in plans.
When we came to the tree trunks blocking the road, we had to decide… backtrack about 80 miles or jump the tree trunks.
"Not a problem… I've jumped bigger tree trunks than that… we have a high clearance 4WD… What can go wrong?… If we find bigger trees across the road we can come back this way."
The Blazer easily cleared the tree trunks and we continued our way.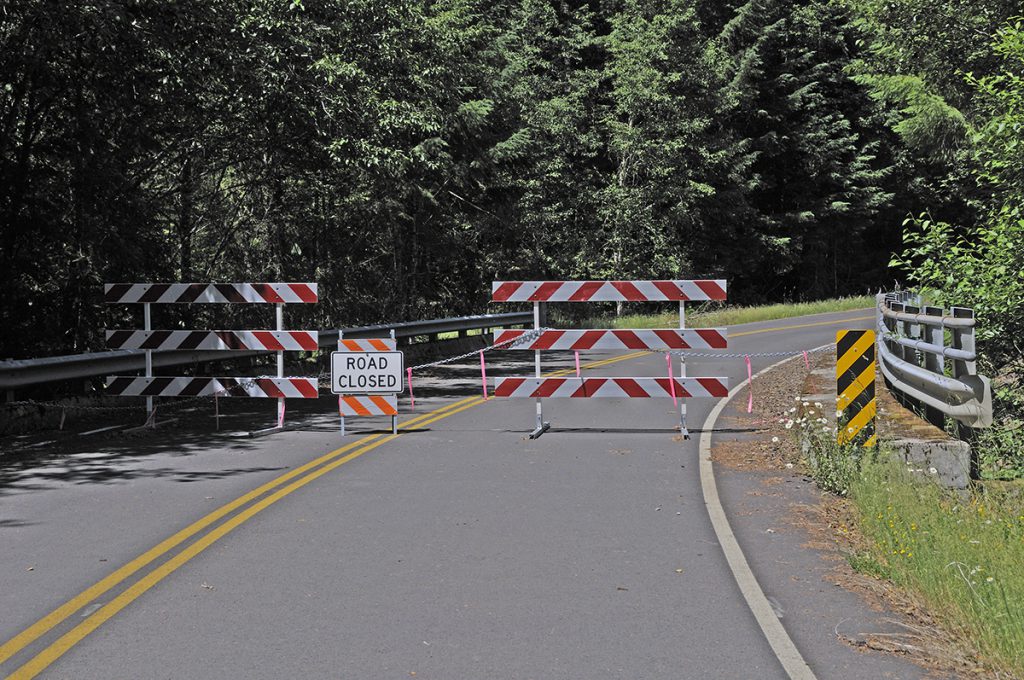 A few more miles down the road we came upon an insurmountable problem.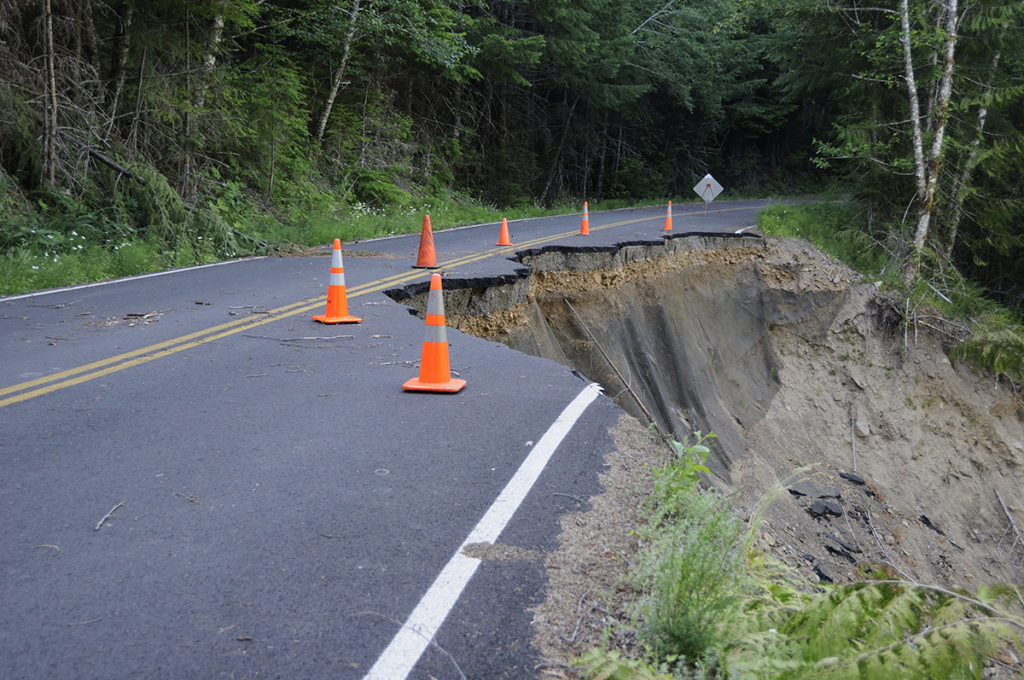 The road had washed out and there was no bypassing the barricade. We were forced to retreat the way we came.
We once again encountered the downed tree trunks. This time headed uphill.
While attempting to jump the tree trunks a wheel got caught up with a trunk and we ended up in soft roadside gravel which gave way. An attempt to back up made the problem worse and resulted in my son yelling at me to stop because the front end of the Blazer was heading sideways and threatening to roll us over into the canyon.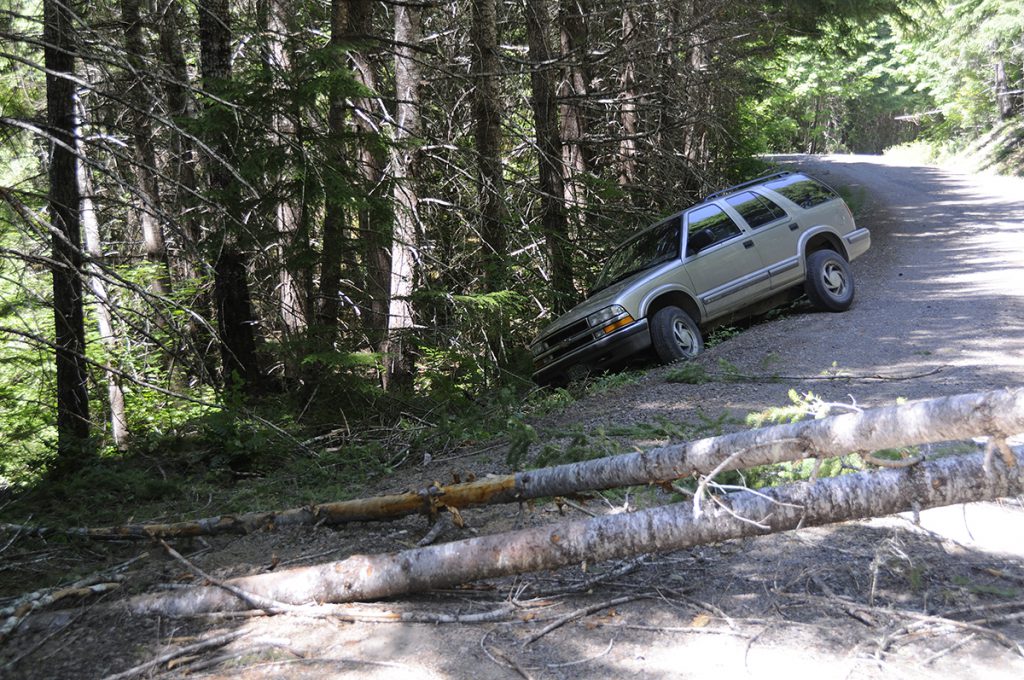 "We're hopelessly stuck. We're not likely to see another vehicle. Our cell phones won't reach out. It will be dark soon. We might as well start walking."
So, we began to walk… hoping when we got to the 46 road down the Clackamas River we might catch a ride to Estacada some 40 miles distant where cell phone communications could be established. My home near Gresham was another 15 miles where my Dodge diesel 4WD pickup was located and I could retrieve the proper tools to extract the Blazer from its dilemma.
Fortunately for us a family was camping near Bagby Hot Springs and decided to return to their home that evening. We were about four miles down the 63 road when they found us walking toward Estacada.
They stopped and gave us a ride. We were rescued. They took us to our home near Gresham. All our lucky stars were in alignment.
The next day my son and I returned to the Collawash River with the Dodge 4WD… with ax and chainsaw… with tow cables… with a satellite phone… (in case we got the Dodge stuck too).
We extracted the Blazer from its precarious perch and took the long way home.
We vowed never to leave home again without an ax or chainsaw in our rig.
Story and photos byLarry