With record setting low daily high temperatures and rain the last couple of weeks the prospect of better weather with sun breaks tempted me to go bird watching at Ridgefield National Wildlife Refuge in Clark County, Washington yesterday, May 30, 2013. It rained most of the hour long drive to Ridgefield but once there the clouds parted and the sun started warming things up.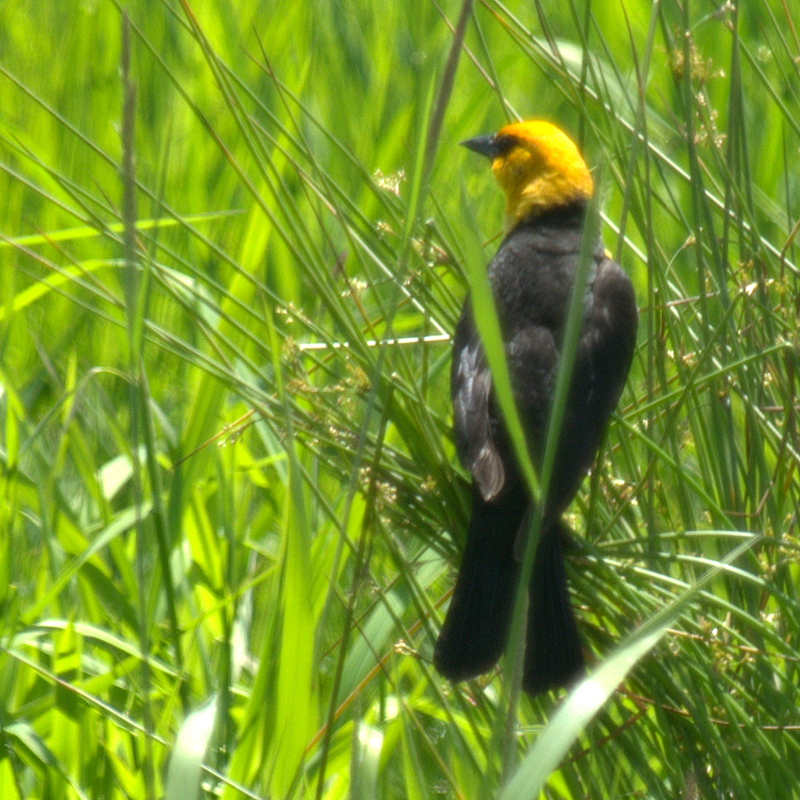 Marvin Kellar met me at the kiosk and we proceeded with the auto tour. Red-winged blackbirds were in abundance with a few Yellow-headed blackbirds mixing in. They were perching on the Cat-tails and regaling each other with song.
We saw, but did not photograph, a Belted Kingfisher. They are rather camera shy.
We decided to hike the Kiwa trail, a short mile and a half loop walk through a grove of Ash trees. The trail passes along a slough for a distance and then circles some small marshy lakes before returning to the beginning. A Kingfisher tantalized us by flying short distances, just out of camera range, as we approached.
It was now a little past noon and songbirds were in fine tune. We spotted one of the culprits, a Black-headed Grosbeak, outfitted in breeding colors, perched about 20 feet up in a tree. Tree swallows were flying about and seemed oblivious to our presence… even posing for the camera. About half way around the loop trail a heavy rain shower caught us in the open… nothing to do but cover our camera gear and plod through the pelting rain back to the car, protecting our camera gear as best we could.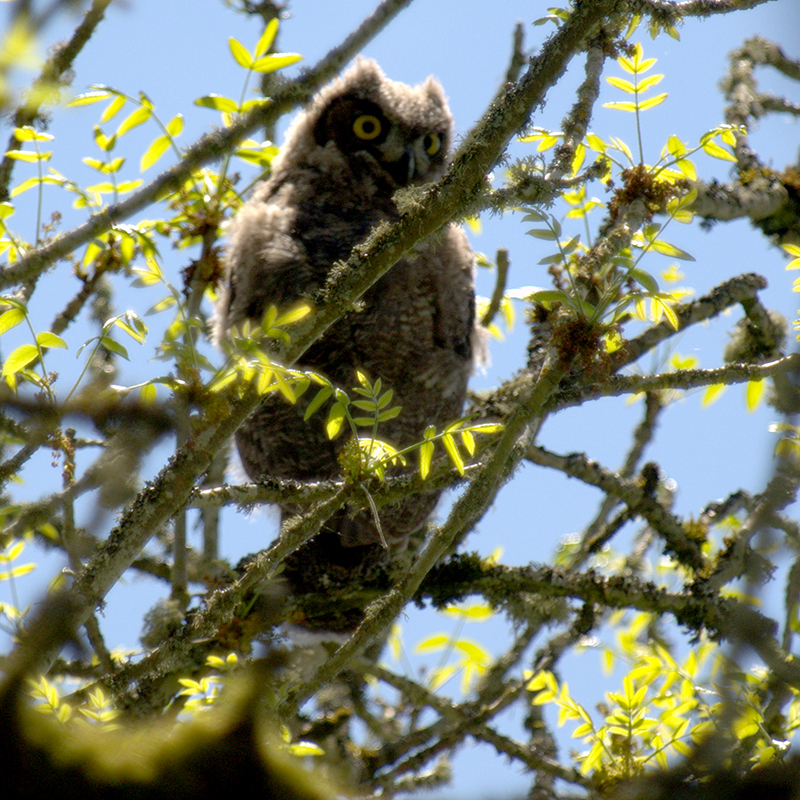 As we continued the auto tour, now in a grove of Ash trees, Marvin spotted a bird-like lump in a tree across the slough on our right. Out came the binoculars which revealed a Great Horned Owl chick. Although it looked capable of flight it seemed content to sit and watch us take pictures. We were delighted with the find. Owls are a special treat in the daytime. Lighting conditions were not optimum so we spent some time trying different camera settings, hoping for that one spectacular photo. After exhausting our appetite for owl pictures we continued the tour.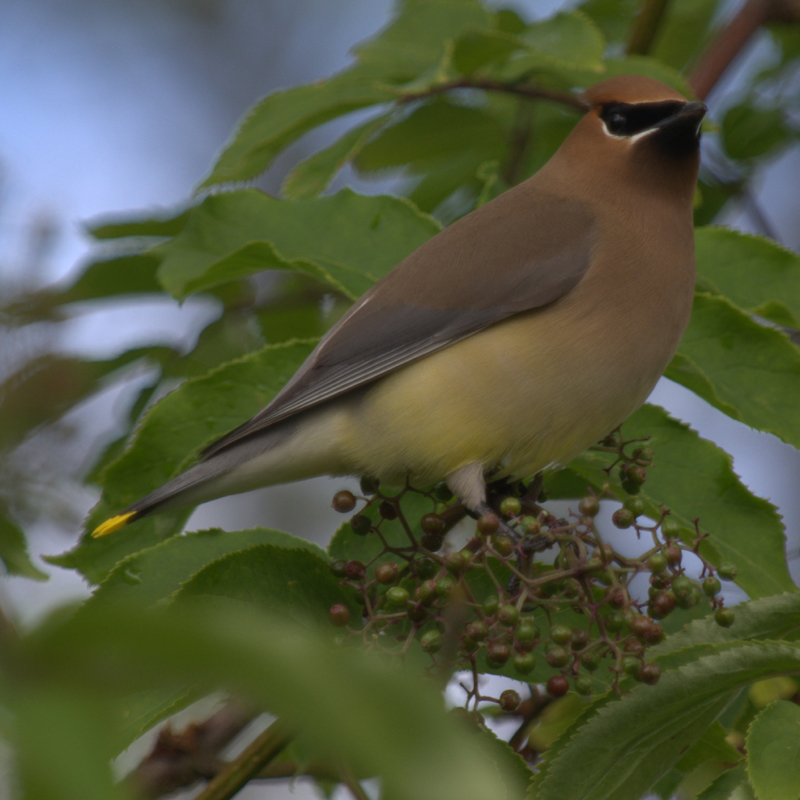 A roadside Blue Elderberry bush provided several Cedar Waxwings close and just above eye level. They were busy foraging for berries (not yet ripe) and our presence didn't bother them. We were congratulating ourselves on our good luck finding some birds that were not the everyday, everywhere American Robin.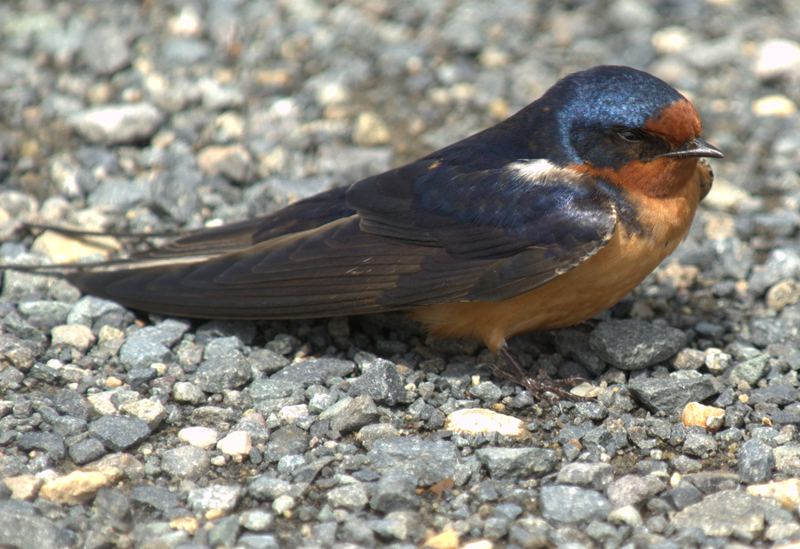 The sun was shining once more and Barn Swallows were landing in the gravel of the road. They were hunkered down, apparently soaking up the sun's heat from the gravel. We had to be careful to not run over one of the little guys but they were giving us great opportunities for some up-close and personal photos.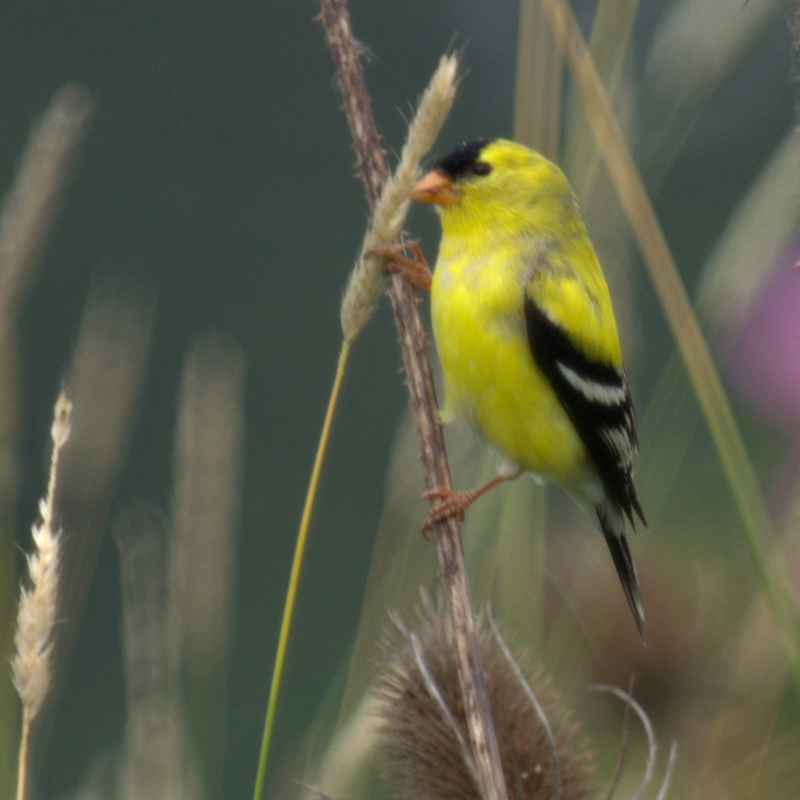 Near the end of the loop the road passes along a dike where numerous Teasel stalks left over from last year form a thicket. A flock of American Goldfinch were perching on the Teasel and picking grass seeds from Canary Reed grass growing alongside. Notice how the Goldfinch is pinning the grass stalk against the Teasel.
Having completed the first loop we opted for one more trip around, maybe our good luck would continue.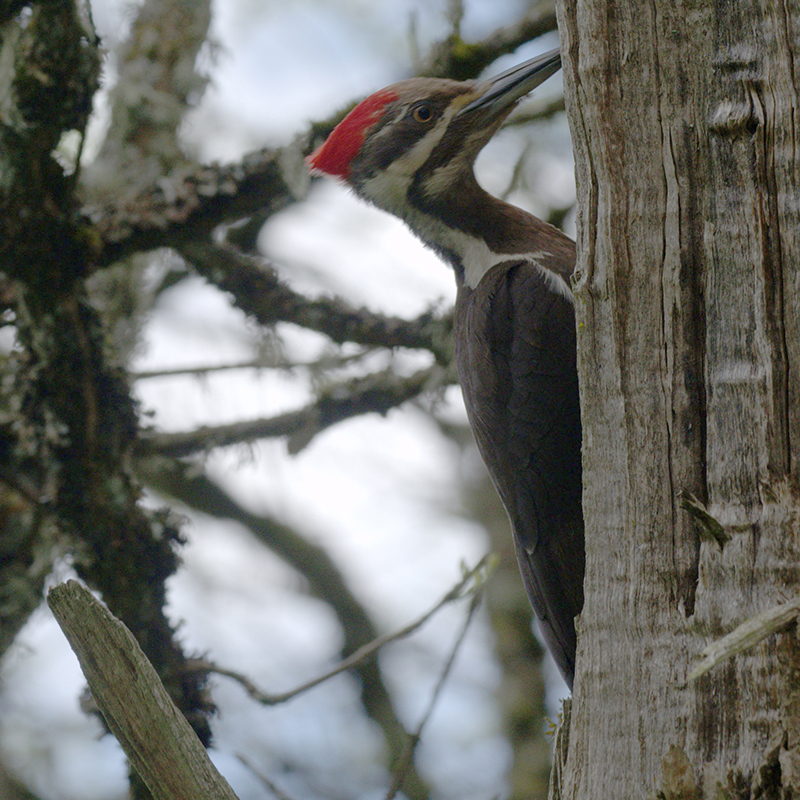 And it did… back in the grove of Ash trees a Pileated Woodpecker flew up and landed on a tree not ten feet from the car. After the shock of seeing it I fumbled with my camera, trying to make it focus on this elusive bird, and missing the greatest opportunity for the classic woodpecker pose. After finally remembering I had changed the focus to manual I recovered and got a couple nice shots of the big red head. It quickly tired of the commotion it had caused and departed our vicinity. We were at least a mile from any conifer so we were surprised to see this particular species in a deciduous forest. The rumor is they require old growth timber but the truth is they can be found almost anywhere. Still, sightings are rare and exciting when they happen.
A traffic jam ahead alerted us that the owl was still hanging out in the tree across the slough. This time there were two owls… an adult was perched next to the chick. When we got our turn we snapped a few dozen more pictures. Another car stopped behind us and the guy driving got out with a tripod and a camera with one of those $20,000 telephoto lenses attached. The adult owl decided enough was enough and departed, leaving the chick to fend for itself.
We departed too… and found our smallest falcon, an American Kestrel, perched on a roadside signpost. It teased us by flying just one post ahead, stopping until we almost got in camera range and then flying to the next perch.
We called it quits… a fine day out birding… and quite an exciting day at that.
byLarry

Related Images: