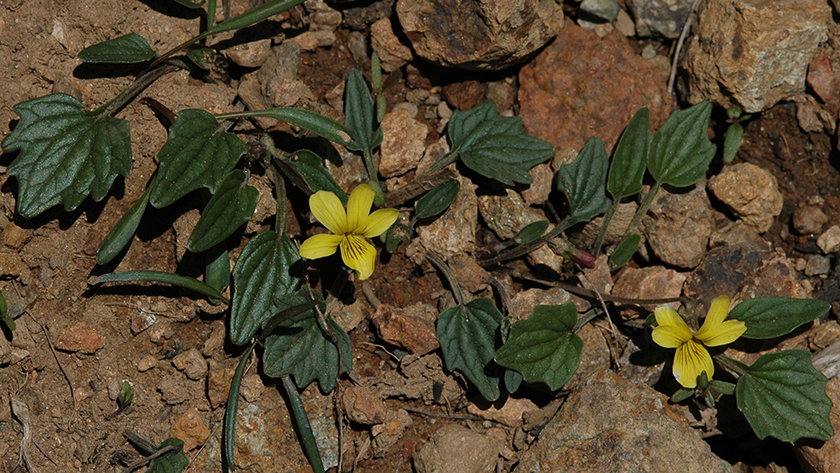 A few years ago Marvin and I made a late summer wildflower hunting trip to the John Day area. We knew high country would still be showing spring flowers and Vinegar Hill looked to be a candidate. The map showed a road to the top and an elevation of 8,131 feet.
The road was pretty rough even for my 4×4 Dodge PU. We scrambled through some washouts that eliminated almost everything else in the passenger vehicle category. Near the top of Vinegar Hill we ran into snow drifts that stopped us.
While backing up to find a turn-around I spotted a violet growing roadside and hopped out to take a closer look (key in the ignition). The warning buzzer sounded so I closed the driver's side door to turn off the buzzer.
Then Marvin got out the passenger side and closed his door.
Now the keys were securely locked in the truck along with our cell phones. Nothing to do but break a window to get inside the truck.
Silly me, I broke the window on the driver's side. I should have broken the one on Marvin's side.
When you break a vehicle window it shatters into a million small particles of glass that takes a vacuum cleaner to remove. Fortunately I could use my coat as a pad to sit on but I had the wind in my face the long trip home, 293 miles and six and a half hours driving time.
When I went to get the window repaired they asked how the window got broken. As a joke, I held Marvin responsible for locking the keys inside the pickup since he was the last person to get out.
I vowed to get a second set of keys for my vehicles so I would always have a spare. If you haven't done so I strongly recommend that you do. It's a lot cheaper than buying a new window.
byLarry