Culver, Jefferson County, OR: Haystack Grange… Traveling with Marvin… We drove highway 26 across the Mount Hood corridor toward Madras. There were plenty of signs warning travelers to carry chains or traction tires because of snow conditions. We found the road totally clear, no snow clinging to the trees but with some traces of snow on the ground.
We found a few wildflowers in bloom after leaving the timber on the desert side… Oregon Sunshine, Whitlow Grass, and a very little blue flower which I have not yet identified.
We had some time on our hands at Culver so took a short tour of Lake Billy Chinook formed by Round Butte Dam. We toured the Cove Palisades State Park, driving across the bridge over the Crooked River and continuing on past "The Island"… technically not an island but an interesting rock formation that isolates about 200 acres from casual observers and livestock. The Island is now a Research Natural Area (RNA) and is closed except to permit holders conducting research.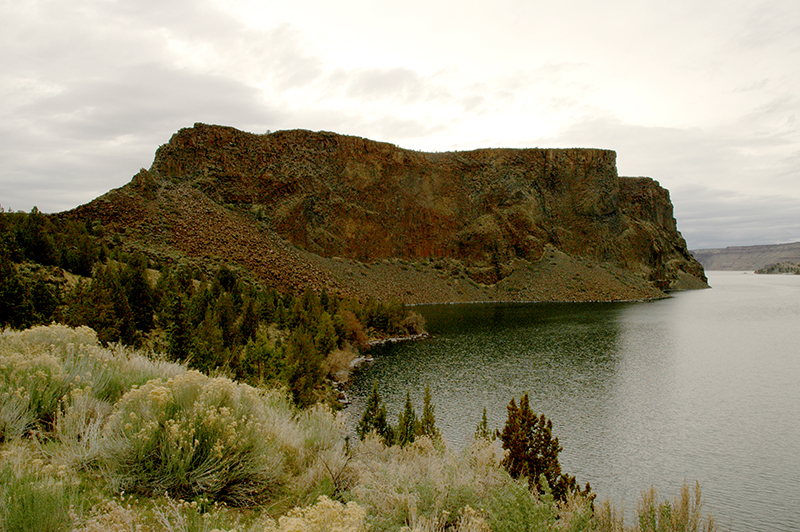 Other than spectacular rock formations we found little of interest… spring has not arrived in this portion of Oregon.
We also made a loop around Haystack Reservoir, again not finding anything turning green. There were a few RV's, probably fishermen, at the campground.
Crossing back through the Mount Hood Corridor we found it had snowed several inches… the trees were covered with snow… but the road was clear allowing for regular highway speeds for traffic.
byLarry